What a wonderful week we had with our guests, enjoying not only the events but also the fortunate sunlight that remained with us the entire week! Our theme for this week was sports and outdoor pursuits which began with a picnic lunch before trying our hand at Archery, which our guests thoroughly enjoyed and some now pursuing as a hobby. It's wonderful when you find a new hobby you love!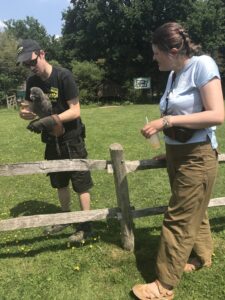 Our guests then unwind with a yoga session, followed by an atmospheric acoustic music performance under the pergola. We then travelled to Knock Hatch to meet animals, climb castles, and fire cannons, before enjoying a range of options from the café. Guest visited the gift shop. Despite the heat, all of our visitors were happy and had a memorable time, whether they were active on the zip line, roof jungle or castle storm, spent time with the animals, watched an owl show, shot cannons at each other and other guests or simply enjoyed a cold beverage or ice cream.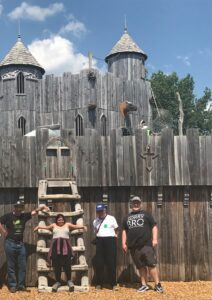 Additionally, we had a lot of fun with King of the Woods Forest School. This week, Belle taught guests how to build and test their own sailing boats in the paddling pool. She then taught them how to play hook a duck and hoopla before serving them a dinner of rainbow spaghetti that was cooked over an open fire.
Not to mention that everyone enjoyed our karaoke party on Wednesday by dancing and singing the night away! To end the great week guest had a great, an excellent bowling day in Tunbridge Wells to round off the week.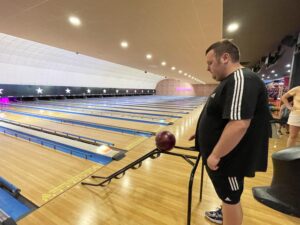 Holiday today!
Nutley Edge Activity Breaks are five-day supported holidays for people with learning disabilities and autism run by Outward. Set in the heart of the Sussex countryside, the breaks offer guests the chance to make friends and try new activities, while giving loved ones and carers an opportunity for respite. If you're interested in booking a supported holiday, click here. 
If you or somebody you know would like to join us for a supported holiday at Nutley Edge, you can fill out the enquiry form on our website, email info@outward.org.uk, or call 020 8980 7101.