Our Summer Holiday fun continues; the weather did not dampen our spirits, and we were able to participate in all of our scheduled on- and off-site activities.
We started the holidays with a terrific selection of food at the Oast farm, which our guests appreciated, it due to the weather being sunny, we could sit outside and enjoy the scenery around us. We then eased into the week by selecting a coaster or glass painting before beginning our inaugural Nutley Edge sporting Tournament, which included a variety of games and sporting activities, each captained by a nominated guest.
We then headed to Eastbourne and spent a wonderful sunny day by the sea, eating fish and chips and looking at the bespoke stalls along the sea front, with some of our guests sampling some of the street food, before finishing the day with an ice cream or a slushi at the sea front and admiring the views, before returning to the Farmhouse to party with our Karaoke.
We were initially preparing for a 5-round tournament after all of the fun and excitement of our sports competition, but due to popular demand, this was extended to 8 rounds! Lots of laughing and joy as the captains announced forfeits and even challenged the activity staff, it was a highly competitive week!
After talks, we then made Mocktails to enjoy outside while soaking up the sun, singing and playing instruments to accompany Jo in a music session. we got the chance to create  own Pizzas with Tim, and enjoying our last evening in the garden.
We finished of our week with a highly requested bowling trip before returning home.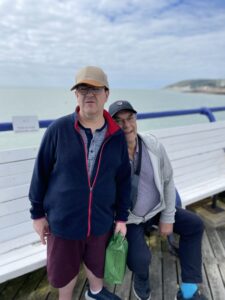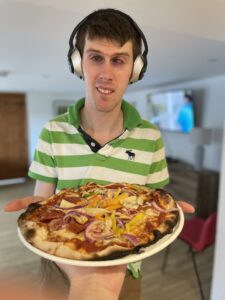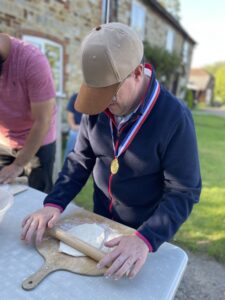 Book your holiday today!
Nutley Edge Activity Breaks are five-day supported holidays for people with learning disabilities and autism run by Outward. Set in the heart of the Sussex countryside, the breaks offer guests the chance to make friends and try new activities, while giving loved ones and carers an opportunity for respite. If you're interested in booking a supported holiday, click here. 
If you or somebody you know would like to join us for a supported holiday at Nutley Edge, you can fill out the enquiry form on our website, email info@outward.org.uk, or call 020 8980 7101