Earlier this year, Sport England generously awarded Outward a grant to run a six month multisport programme to improve the fitness of adults with complex learning disabilities. Since October, three professional sports coaches for SportWorks– Ashley, TJ, and Josh – have been running seven weekly sessions in a number of our Hackney, Waltham Forest and Enfield services. 
The benefits of improved fitness are no secret. Staying active and participating in sports can improve your physical wellbeing, make you happier, and decrease loneliness.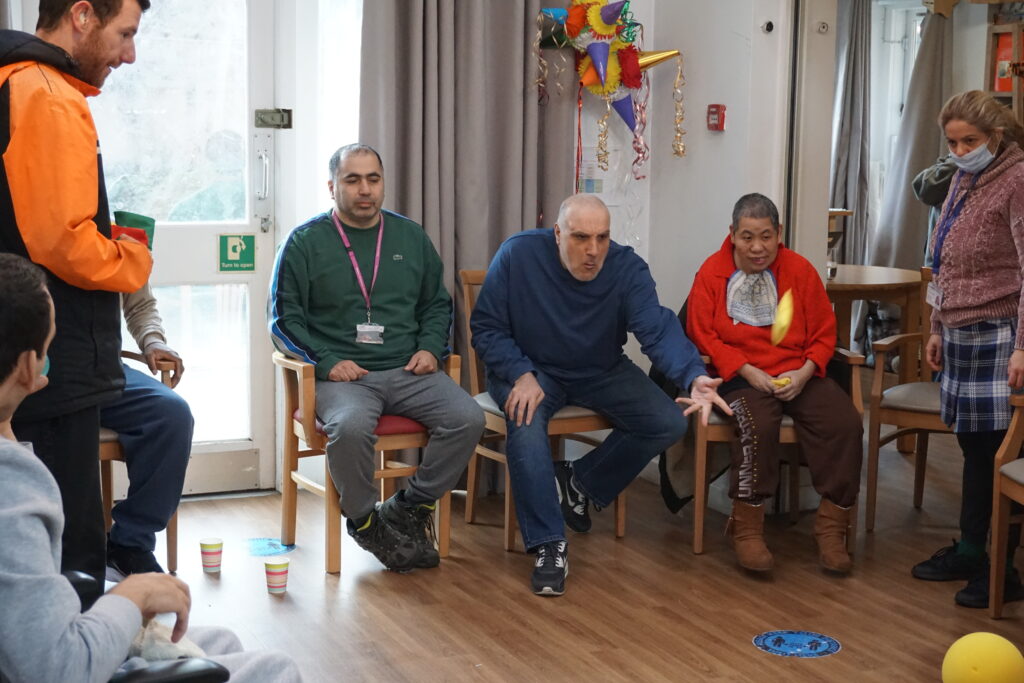 Unfortunately, people with learning disabilities often experience social exclusion, which can extend to impact their participation in sports. A recent study found that adults with disabilities were 21% less likely than the rest of the population to be active. Activity levels amongst adults with disabilities also fell more during the pandemic than for others, and are taking a longer time to recover to pre-pandemic levels (Sport England, 2022). 
Our Outward "Get Active" programme was designed to bring the people we support together to learn more about how to stay fit, develop good exercise, and interact with new people who can encourage them on their fitness journey. Ashley, TJ, and Josh will also be working with staff to teach them how to deliver the sessions themselves to sustain the life of the project. 
This week, I attended one of the sports programmes at Catherine House, one of our Hackney services for adults with profound and multiple learning disabilities, and spoke to coach Ashley about the project.
Could you tell us about the "Get Active" project?
Our main aim for the project is to improve people's fitness by building muscles and increasing their range of movement. In our Monday sessions, it's more about group fitness. For the Thursday group, which is primarily for wheelchair users, the focus is on improving muscle strength in their upper bodies. More strength means more independence, as they can start to do things like move their own wheelchairs. I want to try and teach them as many new and different activities as possible so that when I do leave after the six months, they've got all the equipment and knowledge they need, and hopefully they feel better about themselves. 
What made you want to work on the "Get Active" project?
I've been in the sports industry, mainly football, for nine years, however I wanted to go out of my usual comfort zone and explore teaching multisport. We're looking at throwing, running, agility work, fitness, gym, all that kind of thing. It's a new challenge – multisport can mean anything! I wanted to explore and grow with the people I'm teaching.
What progress have you seen since you started the project? 
There has definitely been steady progress every week. The participants are improving bit by bit. Their throwing technique is really improving. Their movement is quite good. They're starting to grip the ball a bit better. I believe they're enjoying the sessions too. A lot of the participants are non-verbal, but we use easy read documents to get their feedback. 
What is your favourite part about the sessions? 
I love learning different things about different people. Two months ago I didn't know these people at all. It's a different experience for me, which I'm enjoying. Every time I come in here they're laughing, they're giggling – they brighten your day. So I love coming here, even though it's sometimes early in the morning. It's great. The participants like to improve and they want to work hard. 
Have there been any challenges?
At the beginning there were some challenges. Whenever I get here people are often sleepy, but you can see their progression because they're getting better at getting up to start the session on time. It shows they are learning to enjoy keeping fit. 
Do you have any advice for anyone who wants to improve their fitness?
Make sure you have the right mind set for it. Know what your goals are. Find out what equipment you need and take it easy. It's a marathon not a sprint. Don't go in thinking you're Usain Bolt! Start from the bottom and work your way up. If you feel like you can't push yourself, that's not the right mind set. You have to think anything is possible. 
We'd like to say a massive thank you to Sport England for providing the funding to make this project possible!