On Tuesday, October 11th, 250 staff and people supported gathered in the grand Leyton Great Hall to celebrate our achievements from the past year. The night was filled with good food, dancing, and supportive cheer from guests from across our services.
Upon arrival, our guests were invited to take part in a survey about Sex and Relationships, created by our Co-Production team, to help gather data for some exciting upcoming Community Engagement projects. Many people also snagged tickets for our raffle, which was filled with great prizes, some generously donated by Hotel Chocolat (Islington) and Pressure Drop Brewing (Tottenham). Our bar was stocked with Pale Ale, generously donated by our friends at the East London Brewing Co.
Dinner was served at 5 pm by the fantastic Ummah Catering, who dished up a feast of Asian cuisine. Everyone enjoyed the food, and there were lots of leftovers for people to take home and enjoy the next day.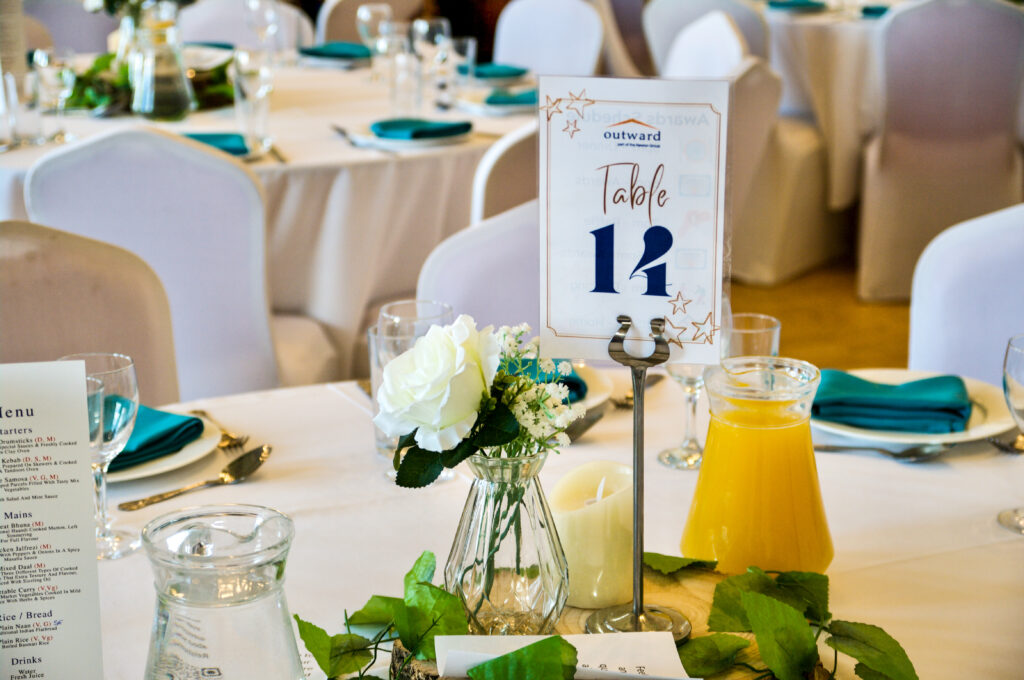 One of the most impressive parts of the night was the spectacular dessert table that boasted a collection of bite-sized desserts, which included vanilla cupcakes. chocolate cupcakes, strawberry trifle, Ferrero Chocolate Mousse, Strawberry Jelly, Pineapple n Mango Jelly, Kheer (Rice Pudding) – 550 desserts in total! It is no surprise that Samina was awarded an honorary Star Baker Award!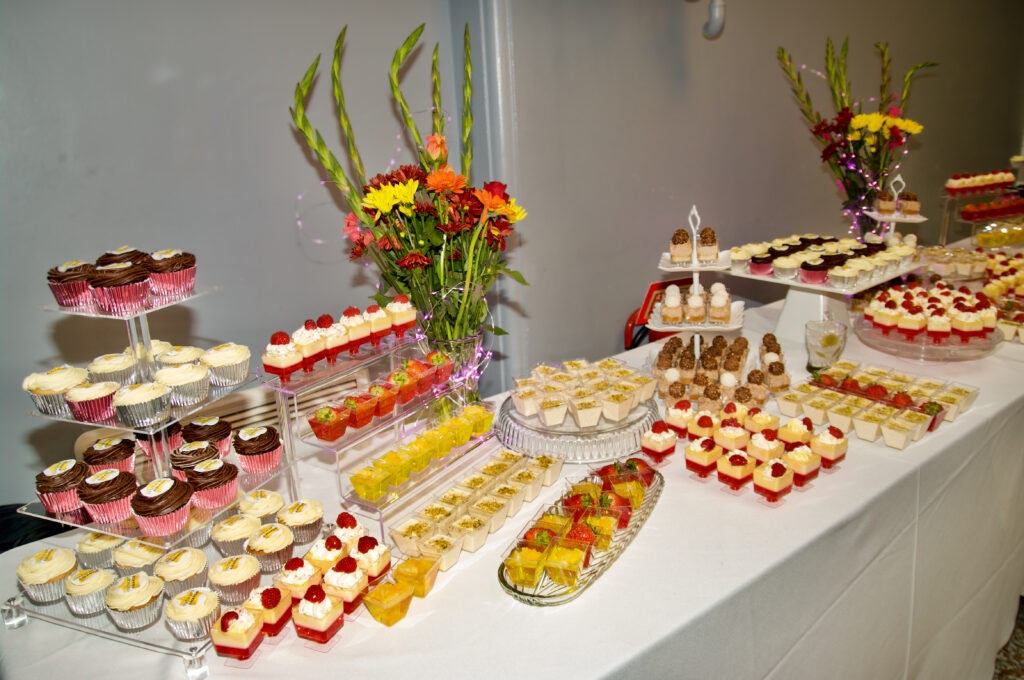 The Awards were presented by CEO Nicky Boland, Director of HR Lindy Shufflebotham, and Director of Care and Support, Katie Gutheim, and the night was capped off with dancing to the sounds of our fantastic DJ, Toney Tunes.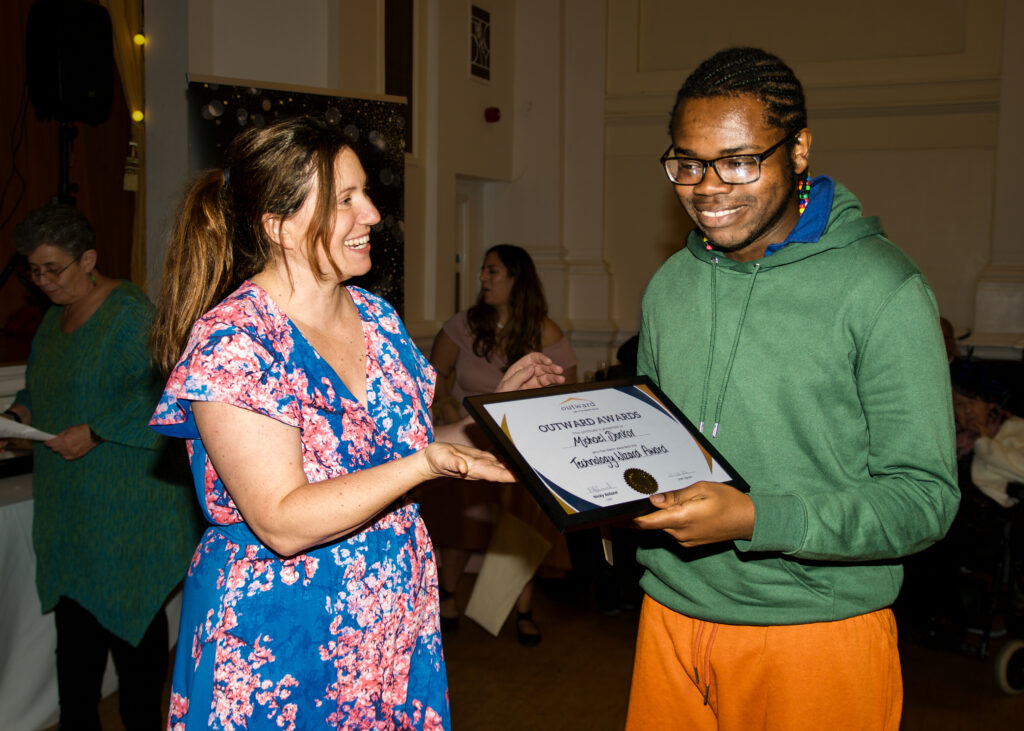 Here are the winners of the awards:
Staff Awards 
Leadership Award: Lewis Devonish
Lewis received the most nominations of any nominee this year. His team praised him for his hands-on approach to problem-solving, and his ability to motivate his team,  and shows genuine interest in supporting his team to fulfil their full potential. Almost every nomination mentioned his ability to encourage and uplift his team.
Above and Beyond Award: Joanna Williams
Joanna was awarded the Above and Beyond Award for her dedication to the role, despite a period of personal hardship during COVID. She creates a joyous atmosphere at the service, and there is often singing and dancing when she is around. She's the first to dive in when something needs to be done and prioritises supporting her colleagues.
Engaging, Enabling, Empowering Award: Wintana Miheretab
Wintana received this award for her work helping the people she supports to update and redesign their bedrooms. Wintana set an excellent example of person-centred support, empowering people to make choices about the kind of furniture and accessories they wanted to help express their personalities in their living spaces.
Best New Starter Award: Raheem Dabiri
Raheem is well-loved by his team and has established trusting relationships with the people he supports. He arrives early for shifts and often steps up to cover shifts, and has empowered one of the people he supports to become more independent in a very complex situation.
Best Colleague Award: Zahour Akhtar
Zahour received nominations from across services, which is a testimony to how well-regarded he is across Outward. He goes above and beyond in everything he does and goes out of his way to help his colleagues. His positivity is always notable in the head office.
Outward Award: Denise Williams-Bent
Denise received nominations from several people we support for her helpful attitude and positive attitude. She has great rapport with the people she supports and makes a great Sunday Roast!
Lifetime Achievement Award: Catherine Jean Boyle
Cathay is one of Outward's longest-serving employees and has worked in several roles throughout her time. She is known for always being a friendly, happy presence and is willing to go out of her way to help her colleagues and the people she supports. Her passion for her role is evident and she has made an outstanding contribution to life at Outward.
Central Team Member Award: Sava Gezhilli
Even as a relatively new member of staff, Sava has proven on several occasions she will go the extra mile to provide support. For example, she recently assisted with an incident outside of work hours, after noticing police activity at an Outward site on her drive home. She stopped and offered support until an on-call manager could arrive.
Safety and Wellbeing Champion: Lydia Owusu
Lydia was awarded the Safety and Wellbeing Champion Award for exceptional diligence in caring for somebody she supports. Lydia supported somebody through a serious health condition, giving up her free time to visit him. She cared for this person as a healthcare professional would, and without her attentiveness, it is possible the person would not have survived.
Workplace Award: Cyntia Garcia Del Rio
Workplace is an important tool for Outward staff to showcase the good work across the organisation and build a sense of community. Cyntia creates joyful content regularly to share with colleagues and has made the most posts and comments since the beginning of the year.
All-Rounder Award: Rita Batir
Rita received many nominations across many categories – so much so that we had to make a category, especially for her! She is never too busy to lend a hand and has built a fantastic relationship with her team. She communicates well with the people she supports, including planning an incredible roster of activities for the people we support. She has also done a great deal to improve communication between the service and loved ones to ensure everybody is happy with the service provided.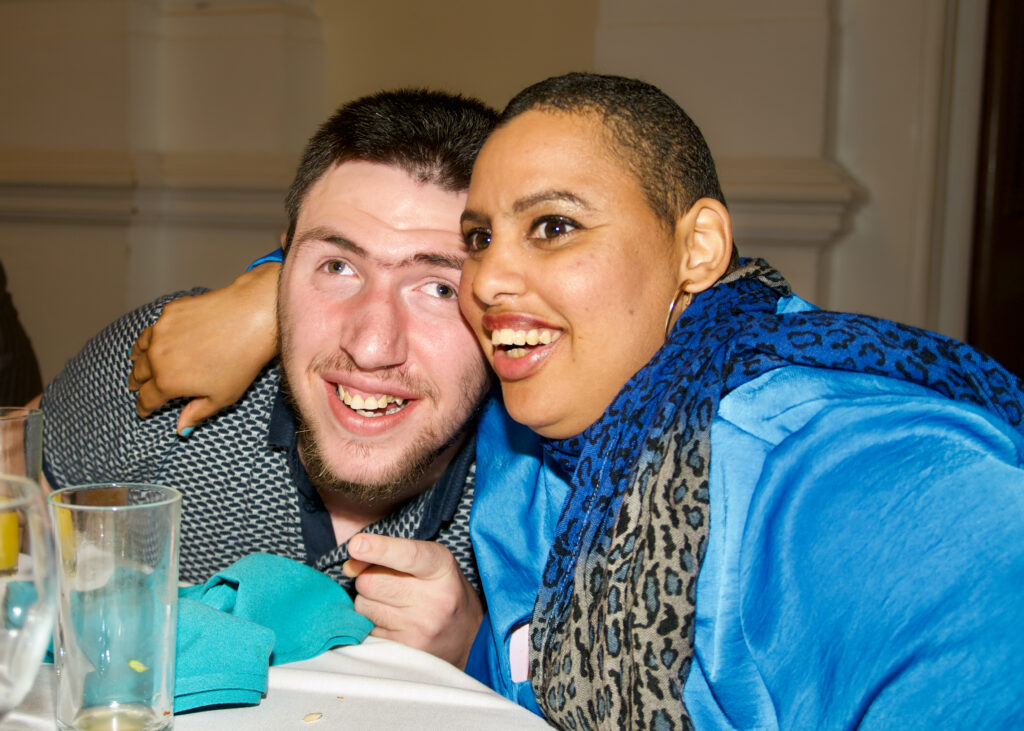 Awards for People Supported by Outward
Master Chef Award: Louise Chard
Louise was nominated for her baking skills. She loves to bake something for her friends each week and often hosts tea parties and movie nights
Arts Achiever Award: Tyren Beaupierre
Tyren is a passionate artist and creates art to display in his room. He also loves to create his own birthday cards to send to friends and family.
Fitness Fanatic Award: Lee Parker
Lee was given this award for his commitment to weight training at the gym. His support workers have seen a notable difference in his fitness as a result of his dedication.
Wellness Warrior Award:  Ayleen Smith
Ayleen has made a significant improvement in her physical health and well-being this year by making healthy eating choices and going for regular walks. These lifestyle improvements have even led to a reduction in her medication.
Technology Wizard Award: Michael Donkor
Michael is happy to lend a hand to anyone when it comes to technology. He has helped his friends with all sorts of technical issues, from fixing an Xbox to helping to back up important information.
Great Gardener Award: Paul Chanaryn and Chris Harman
Gardening is such a skill at Outward that we had to give this award out twice. Paul was awarded for his efforts in teaching others at his home how to care for the vegetable garden and his patience even when his crop was eaten by pests.  Chris was awarded for helping to create a Jubilee garden. To create the garden, he bought red, white, and blue plants, painted garden furniture, and encouraged his housemates to get involved.
Independent Award: Shola Cole-Wilson
Shola received this award for her tremendous efforts to overcome her shyness. This year, Shola has challenged herself to take part in a Performance Making Diploma at the Royal Central School of Speech and Drama, got a job as a Quality Checker for hospitals in Tower Hamlets, and volunteered at Bubble Club, amongst other things!
Home Hero Award: Savas Ibrahim
Savas won this award for his compassion and empathy towards his fellow housemates. He is very observant and is often able to lend a helping hand when others become upset. He was also very helpful when the service he lives at was robbed, providing drawings of the thief for management.
Community Champion Award: Skye Archer
Skye has been working hard over the last year to become more confident and has excelled. He helped created an informational video for people supported by Outward, has started studying to become a teaching assistant, and took a trip to the Lake District where he made new friends and broadened his social skills.
Congratulations to all of the winners and everybody who was nominated. We can't wait to see what you all achieve over the next year.