Even November downpours and darker nights couldn't dampen the spooky spirit of our guests this week as they enjoyed our Halloween Activity Break at Nutley Edge! The holiday got off to an active start, with guests enjoying an archery session at Blackland Farm. After working up an appetite trying to hit their targets, everyone devoured a delicious dinner cooked especially for our guests by our favourite cook, Chef Gary, from By Ambience catering.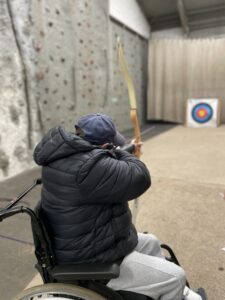 Throughout the rest of the week, all of our guests embraced all that is Halloween and made spooky masks, carved pumpkins, decorated the farmhouse, and sang the night away to every Halloween song you can think of!
We also enjoyed a lovely day out at 700-year-old Hever Castle in Kent, which is best known for being the childhood home of Anne Boleyn.  Our much-anticipated visit from King of the Woods took a ghostly turn on this break. Our guests made colourful 'mummy' style cupcakes, toasted marshmallows on the bonfire. Do you think they could be contenders for next year's Bake Off? We certainly do!
The weather might have been a little bit dreary, but in a way there was no place better to be than cosied up inside our Farmhouse while listening to the rain on the trees. A perfect way to spend the spooky season!
Book your holiday today!
Nutley Edge Activity Breaks are five-day supported holidays for people with learning disabilities and autism run by Outward. Set in the heart of the Sussex countryside, the breaks offer guests the chance to make friends and try new activities, while giving loved ones and carers an opportunity for respite. If you're interested in booking a supported holiday, click here. 
If you or somebody you know would like to join us for a supported holiday at Nutley Edge, you can fill out the enquiry form on our website, email info@outward.org.uk, or call 020 8980 7101.