Over the last few weeks, Outward have been releasing our Diabetes Awareness podcast series. The podcast was created by WB, who is supported by our Tower Hamlets Outreach and Albert Cottages SLS teams, and produced in collaboration with our Community Engagement team. In this article, WB shares her experience. To listen to the podcast, click here.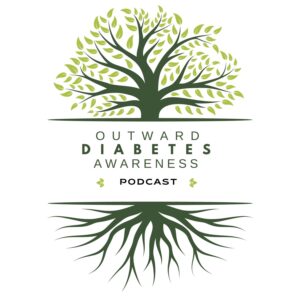 I decided to do a workshop about diabetes to share with everybody at Outward, diabetics and non diabetics. I'm really interested in doing these projects because I have diabetes and I want to share with everybody so they can be aware of the risks.
During my support session, I went to CLDS to pick up a booklet about diabetes, then I went back to the office and went through the booklet and decided to do the workshop. I spoke with the Albert Cottages service manager about doing the workshop, then he said to me 'would you like to do a workshop about diabetes?' and then we started creating the workshop.
We sat down at the Watney Market Idea Store and researched from there using books, the CLDS booklet, the diabetes UK website, NHS website and ordered some leaflets about diabetes.
Because of the virus (COVID-19) it took so long to do the workshops. We had to stop for a while until we were able to meet again and the virus had calmed down.
It took ages to practice and in the end I got to know everything and decided to go for it and start the workshop.
We've done two workshops at the Hub Club. We spoke about what to eat and not to eat, how to check the food labels, then I talked about the high and low sugar levels.
During the workshop, I told the participants to have regular checks with the doctor or nurse, and to always go to the NHS for your eyes and foot. It is very important to do this. Always look after your health, plus if your eyes are blurred inform your support worker straight away, don't wait until the last minute. It's important to tell them if they are around the office then they can book you an appointment or take you to the doctor straight away. If you keep going to the loo a lot, please inform your support worker straight away then they will decide to take you to the doctor.
Whenever you go out for a walk, please take water with you and do plenty of exercise. It is good for your diabetes. Exercise is very important plus every morning walk half an hour and another half an hour in the evening. You don't need to run, you can walk or you can go swimming with your support worker or bike riding. Always take the stairs if you can instead of the lift.
At the workshop, we did a diabetes quiz with everybody. Everything went well and then I told everyone to stand up and get ready for the warm-up. Then we started with music and everyone enjoyed the tree warm-up. I decided to create the tree warm-up to keep everyone happy. Everyone enjoyed doing it
After the workshops my support worker asked me if I wanted to do a podcast for everyone to hear about diabetes. The Outreach manager sent the feedback to me saying it was very good saying 'I'm very happy'.
Since I moved from Albert Cottages to Outreach I have done more things by myself. I've been active and more independent. In the future I am planning to do other different workshops about blood pressure, cholesterol or asthma. I will let everyone know when I start doing it. At the moment, we haven't decided yet when we are ready then we will tell everyone and do a workshop about this.
Thank you very much to managers and support workers I've worked with, I hope to see them when I do my other workshops.
Many thanks to everybody, hope to see you soon. Goodbye!